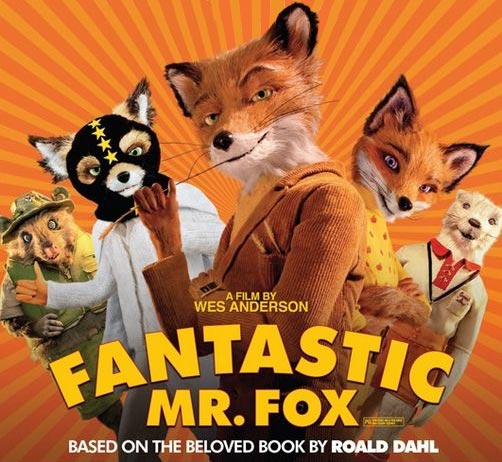 First and foremost HAPPY NEW YEAR!!! I know I have said it once, but ill say it again. I had a wonderful NYE and so far 2010 has been fun. On new year's day we ended up watching a amazingly wonderful movie and frankly my new obsession,
Fantastic Mr. Fox
!!! I know I am blogging about this waaaaayyyyy late but because of school and the craziness of the holidays we were unable to view this movie until recently. Like I mentioned before, this movie has fast become my new obsession. I was completely in awe of this movie and the beauty behind every scene, every line of dialogue, and every joke. The dialog between the characters is amazing, the high-jinx they get into are hilarious and the loveliness of it ALL is breathtaking. This movie is absolutely a classic in the making. The movie is based on the wonderful book "Fantastic Mr. Fox" by Roald Dahl, the fabulous author of such great classics as "Charlie and the Chocolate Factory" and "James and the Giant Peach" so no wonder it is so wonderful. Wes Anderson's ability to capture the heart of the story brings a radiance to the screen that makes this movie absolutely lovely. This is a movie for anyone who wants to laugh and be enveloped with a sense of happiness.
If you have no seen this movie I implore you to watch this film. I know I will be purchasing this movie once it is released to DVD.

ps. the title of this post has to do with one of my favorite lines from the movie. Towards the end of the movie Ash tells Kylie "Do you want to know why? Because I am little" when they are trying to free Kristofferson. I love this line because I am little too, I am only 5 feet tall >.<
I love all the characters, but Ash is one of my favorites, well I really like Kylie too. Please let me know what you think of the movie, or if there is anything you want to tell me about the movie. Thanks.

-Pita.